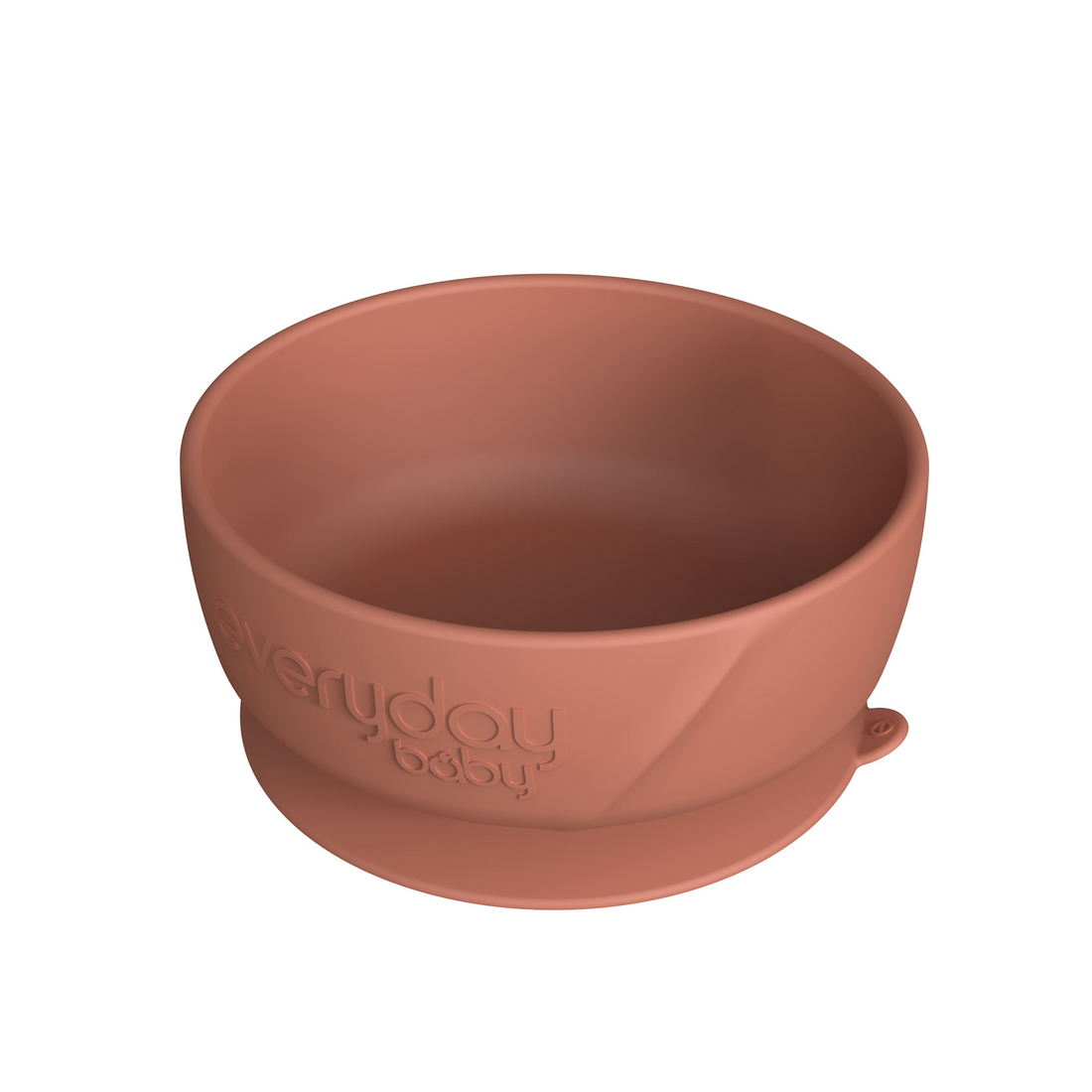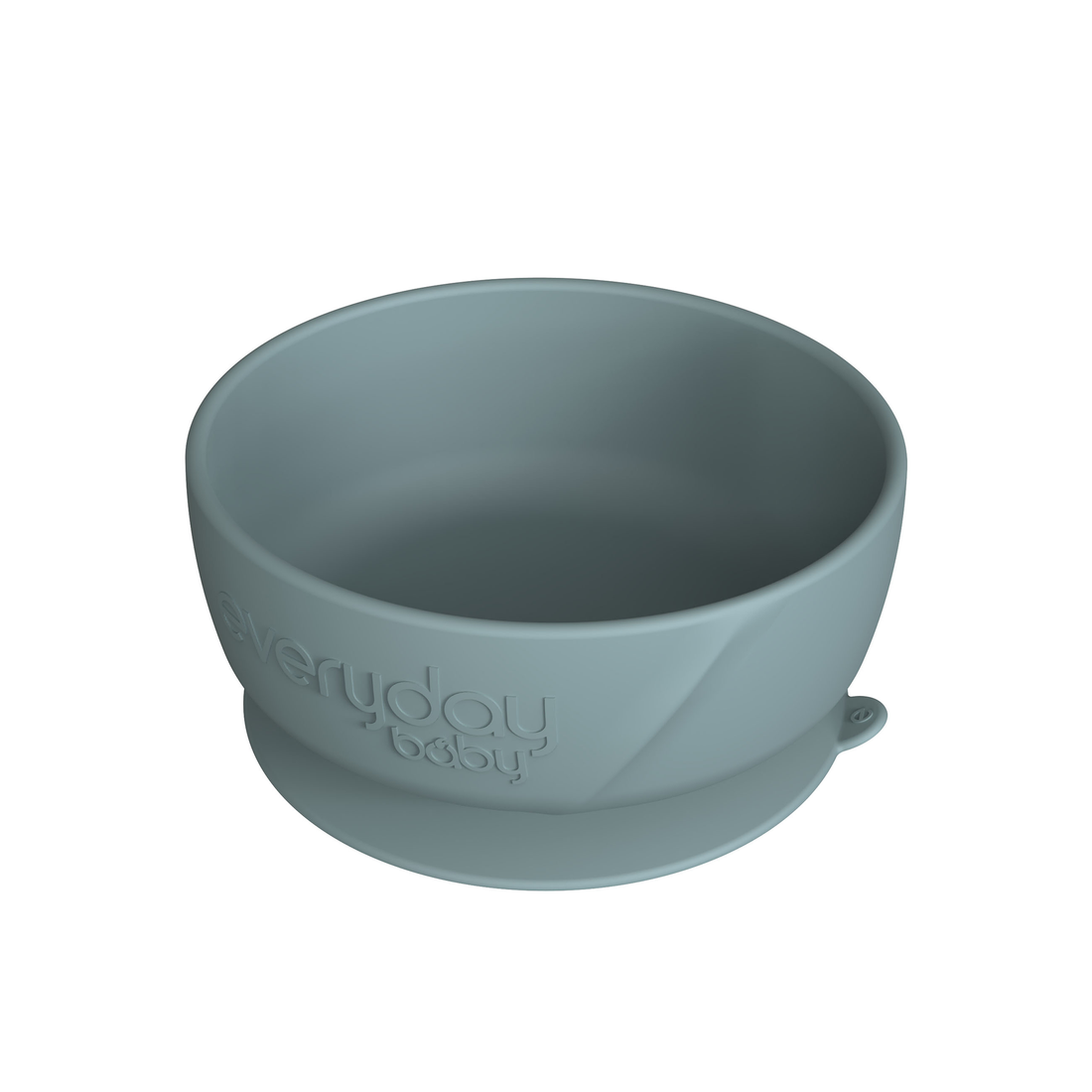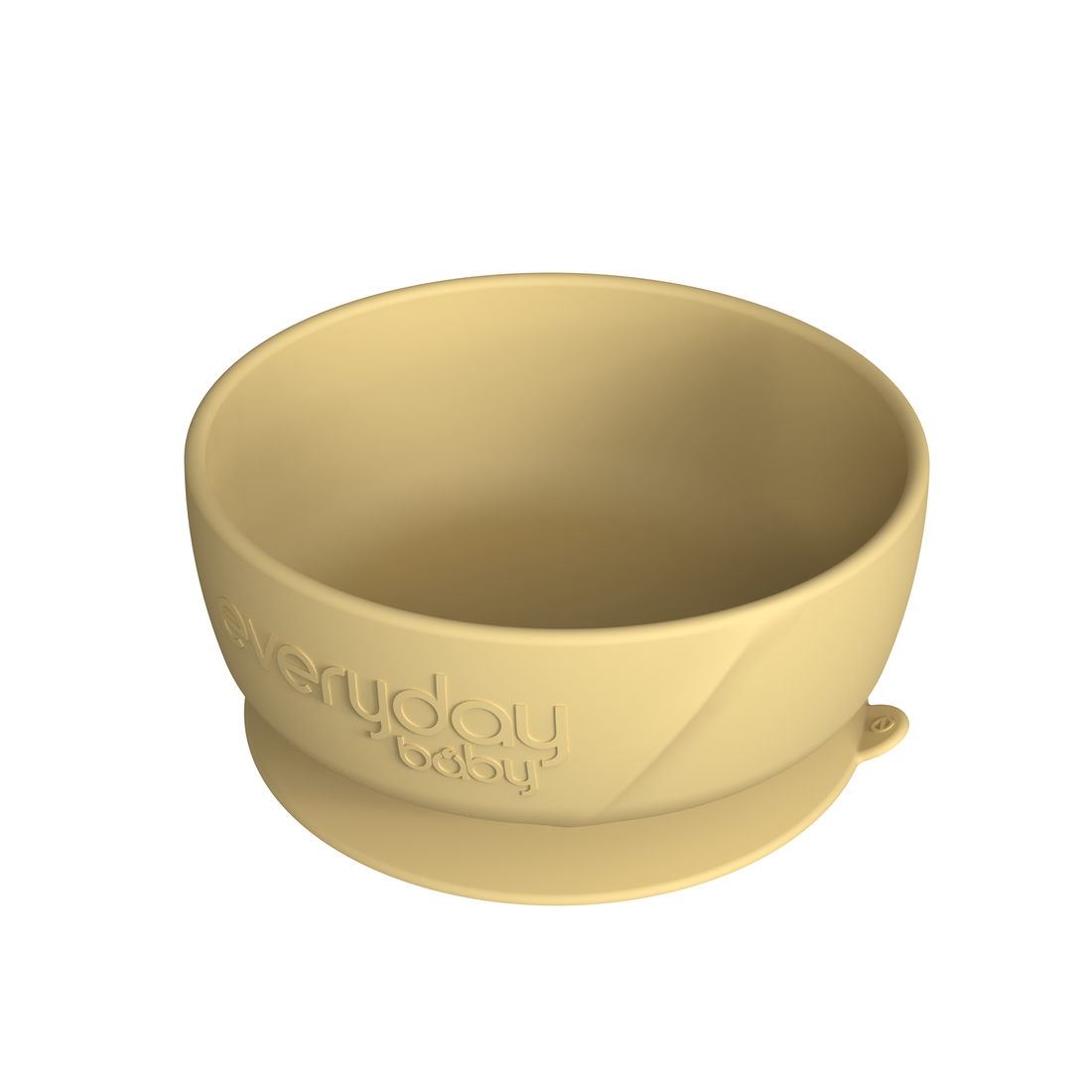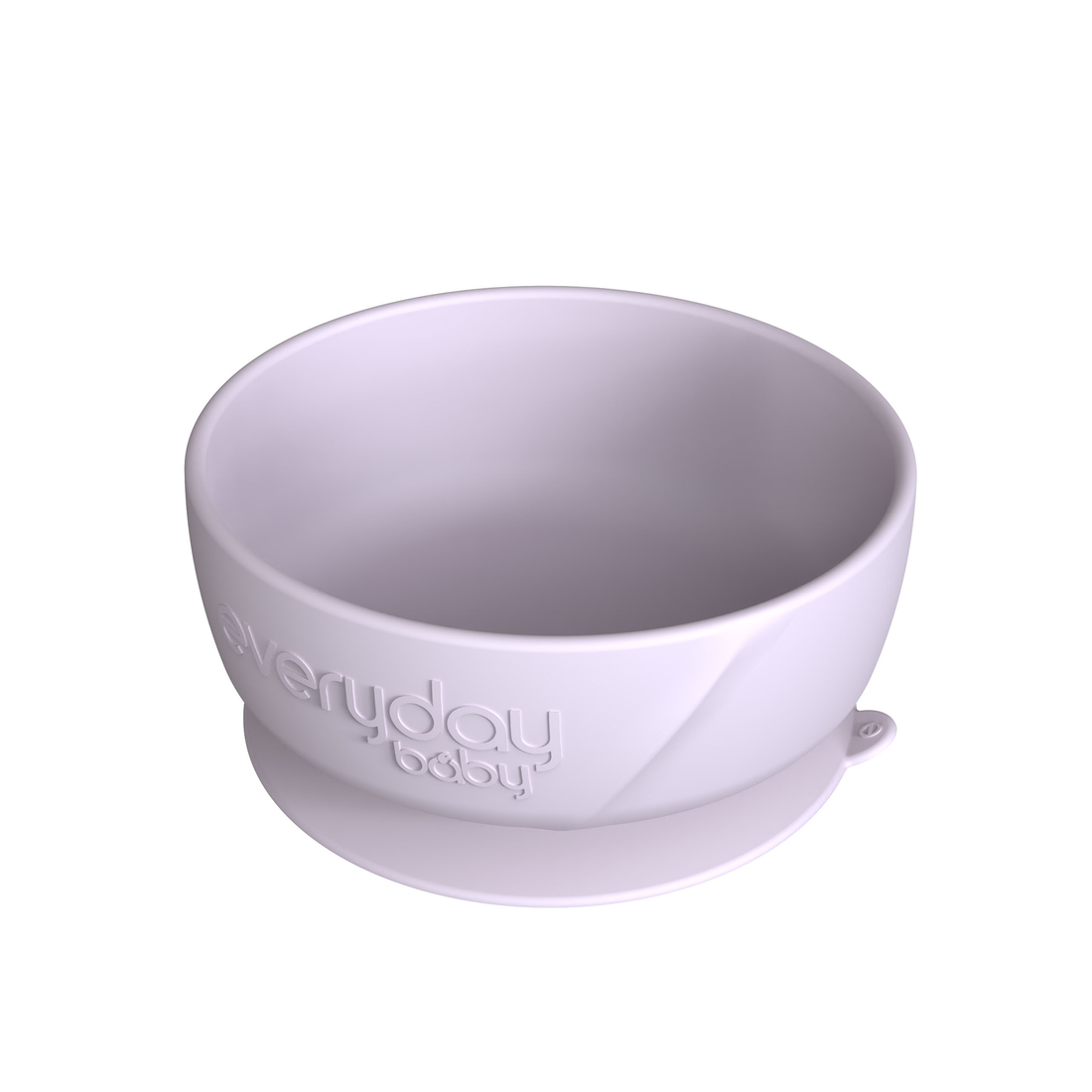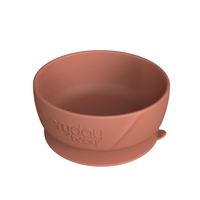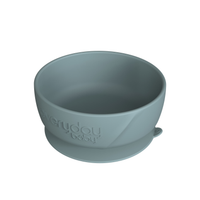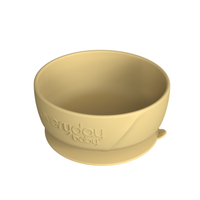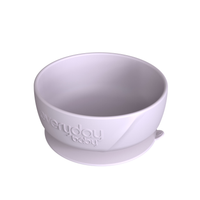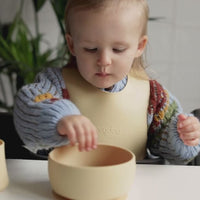 A useful silicone baby bowl that makes mealtime more fun and easy! The size makes the bowl excellent to feed from or for the child to explore themselves. Thanks to solid silicone and suction cup underneath it sticks firmly on the surface. Durable materials makes it dishwasher and heat safe.
STICKS TO THE TABLE
Smart suction cup on the bottom of the bowl makes it stick to the table, which helps toddlers who are just starting to eat by themselves.
SILICONE
Silicone is a non-toxic material made from nature resources. The product is made of 100% food-grade silicone. Silicone has a natural resistance against bacteria, which makes it safe and hygienic. It is free from harmful chemicals such as BPA, BPF, BPS and phthalate which means the product can be heated and washed without harmful substances leaking from the material. Read more about our choice of materials here.
FIRST FEEDING
Silicone baby bowl set is the perfect bowl set for infants and small children ready to start eating solid food. The high edges of the deep bowl make it easier for the child during the meal.
SCALE GUIDE
Smart scale guide on the inside makes it easier to check the amount of food your toddler is eating.
EASY TO CLEAN
The Silicone Bowl is easy to wash and dry. Unlike plastic materials, there is no risk of any harmful chemicals leaking out during washing or cooking. The baby bowl is designed to last long and be reused, over and over again, both home and on the go.
One package includes 1 Silicone Suction Bowl

Microwave safe: Yes
Oven: No
Dishwasher safe: Yes
Boiling and steam sterilization: Yes
Temperatures: (-40 °C to +220 °C)



Tested by TÜV Rheinland. The product is carefully tested to ensure that the material and function provides right quality. Meets the requirements of the European standard, EN 14372.
Everyday Baby - The Healthy Brand. We use the best materials available to create the healthiest products for your baby and child - for a good and healthy life.
STERILIZE Must be washed and sterilized before first use. Place the product in a large pot of boiling water, cover with lid and boil for at least five minutes. WASHING INSTRUCTIONS Clean after every use. Safe for dishwasher, boiling and steam sterilization. Hand wash: Thoroughly clean the bowl with water and detergent, rinse well. After cleaning, place the product in a ventilated area where it can drain and dry properly. STORAGE Store the bowl in a closed space at room temperature.
WHY SHOULD I CHOOSE A BOWL MADE OF SILICONE? Silicone is a material that reduces the risk of bacterial production because it does not absorb water. In addition, silicone does not emit harmful substances as plastic does. DOES THE SILICONE BOWL CONTAIN HARMFUL SUBSTANCES? Our silicone bowl with suction function is made of 100% premium quality silicone and is the safest choice for when your child should start eating on its own. Like our other products, it is tested to meet our high standards of durability, safety and function- all in order for you to feel confident that your child is getting the best. And of course, the bowl is free from BPA, BPS, BPF and phthalates and other substances that can harm your child. DOES THE SILICONE BOWL FIT ON OUR CHILD'S TRAY TABLE? Yes, the bowl fits on all highchairs with a tray table. HOW DOES THE SUCTION CUP WORK? Our silicone bowl has a smart suction cup on the bottom of the bowl that makes it stick to the table surface, which makes the bowl stay in place and facilitates when your child learns to eat by itself. To enhance suction and help keep the seal tight, be sure to firmly press the center of the suction cup all the way and keep firm pressure to ensure all the air bubbles inside are released and a vacuum is created to firmly seal the cup to the surface. DOES THE SILICONE BOWL ATTACH TO ALL SURFACES? The bowl attaches to most table materials with a smooth surface. Make sure that the surface that it's suppose to stick to is a flat/polished material. For example, most of the high chair tray's on market works fine. WHY DOES THE SUCTION CUP NOT STICK PROPERLY? Some surfaces don't work well for suction cups. Before application, start with a clean surface, and make sure it's completely smooth and even- not rough or textured. Suction cups stick better when they are completely clean and dry. Then make sure that you press firmly from the middle inside to ensure that no air bubbles are trapped between the surfaces and there is a tight seal to create the vacuum suction. Like all suction cups it's weaker sideways. The suction plug is strong upwards, but laterally ours as well as other suction plugs, are not as strong and even a child can move it sideways but still not lift it up. HOW DO I REMOVE THE SUCTION BOWL FROM THE SURFACE? To remove or re-position the cup, it can easily be released by simply individually pulling the easy-release tab to break the suction. This eliminates damage to the cup edge. WHY DOES THE SILICONE BOWL HAVE A TILTED BOTTOM? With the bowl's tilted bottom, it is easier for your child to grab even the very last of the food. HOW DO I KNOW IF IT IS THE RIGHT AMOUNT OF FOOD? Thanks to the smart scale guide on the inside of the bowl, you can easily measure the right amount of food for your child. DOES THE SILICONE BOWL NEED TO BE STERILIZED? Before using the bowl for the first time, it needs to be sterilized. We recommend putting the bowl in a large pot of boiling water, then cover with a lid and let boil for at least 5 minutes. CAN THE SILICONE BOWL BE HEATHED IN THE MICROWAVE? Yes, the bowl withstands microwave. IS THE SILICONE BOWL DISWASHER SAFE? The bowl is dishwasher safe and withstands high temperature sterilization. If washing by hand, wash the bowl thoroughly in fresh water and washing-up liquid. Then rinse in fresh running water to remove all foam and detergent. The bowl should be cleaned after each use. Make sure it dries thoroughly. If any moist remains it can cause mould and fungus. HOW DO I STORE THE BOWL? Store the bowl in an enclosed place at room temperature. Do not leave the bowl in direct sunlight for a long time as it can damage the product. HOW OFTEN SHOULD I REPLACE THE SILICONE BOWL? Always check the bowl before use. If you see any cracks or other damage to the bowl, discard immediately.
Our story
The idea for Everyday Baby arised even before we had our own children. We had a strong belief that the materials we use and consume have an impact on our health, both in the short and long term. While we as adults have the opportunity to choose which material we use, our children are completely dependent on the choices we make for them. As fathers, it is our responsibility to ensure that our children aren't exposed to unnecessary health risks.
That we need to reduce the use of chemicals due to negative environmental and health effects, is something that most of us are aware of. Despite this, plastic products are still made and used for children when feeding. It has been shown that plastic baby bottles release millions of microplastics during sterilization, rinsing and preparation. Children thus ingest millions of microplastics every time they are fed with a plastic bottle. Younger children, especially infants, are particularly susceptible to these chemicals while their organs are developing. What we give our children is therefore more important than what we use and eat ourselves.
Through Everyday Baby, we contribute to the elimination of unhealthy substances in children's products. As a step to prove that this is possible, we have created two series of high-quality products - without unnecessary chemicals and made out of durable materials.
Everyday Baby is our contribution to creating a better future for our children, all children.
Everyday Baby was founded by the three fathers Andreas Bengtsson, Edon Ramadani and Fredrik Persson